Ack... someone is interested in buying my filly. I haven't even put her on the market yet... no rush or time or 'desire'- but this woman owns a Novator mare (like Sunlight) and is familiar with the athleticism and temperement of the bloodlines. She sought me and my girl out. Carl and Tracey are wanting to encourage a sale of both Glo (Hanoverian/Arab cross) and Lievertje (my Arab 2 yr old filly- Novator lines) to this woman... and admittedly its probably a good home.

Issues-
1) I don't really want to sell her! She's my baby! She loves me and I love her... plus within a year I can actually start 'doing' stuff with her- and that's the REALLY fun part. See what she has and go from there.
2) The price Carl and Tracey are suggesting I ask is not as high as I want to sell her for... Id imagine I could get more... but the market is so in the tank... its a bit of a risk. She's a gorgeous girl with killer charisma and movement- very well socialized- why hurry for the sake of selling? I haven't really put any feelers out yet... so I don't know for sure. ON the other hand I'm busy and spending hours marketing this little mare isn't something I can easily do- I don't have any current pictures or video- all of my time is spent socializing/playing/training her. No fluff.

That said...
~I'm in college... I'm out of money... supporting two horses is not easy.
~This would be a good show home with someone who knows the strengths and quirks of that occasionally feisty Novator blood (ms. attitude works for postive and negative...)The woman owns a mare and seems to understand the need to communicate as opposed to dominate and intimidate (the latter two rarely working with these willful/opinionated/intelligent horses)
~I can't breed Sunlight before I've sold my Sunnovah baby- I can't afford three horses... no way... but I'd REALLY like to breed her to a warmblood and Percheron- get something a little bigger for my longer legs. WOuld be nice to ride without seeing the shadow of my feet by the belly. ;p Of course I don't know how big she'll get- Sunlight (her dam) is *almost* 16 hands- big for an Arabian mare. Plus Sunlight isn't getting younger- and it's undeniable that she's a happier horse when pregnant and with foal at side- she fills out wonderfully and actually GAINS weight even during cold Wisconsin winters- after having moved up here from Florida.
~I don't know when another buyer will come along...

Ick- common sense says I should sell... but my heart doesn't want to. Practically speaking almost everything points toward working this deal... but practicality doesn't always win. I'll talk to my parents tonight. I'd like to get the womans phone number... but I also don't want Carl and Tracey thinking I potentially messed up a sale on Glo. Gah! Help? What should I do?

What would you sell her for (based on little info.)
Her lines excel at jumping/dressage- I've already tested her over some ground poles and she's crisp and tight like her mother- great natural form and interest. I've spent countless hours messing with her- had her first bath/rinse around a couple weeks at mothers side. Imprint trained and a total lover- lets me sit on her when she's laying down in her stall. Conformation is really working itself out nicely... any advice from horse owners/breeders/sellers or anybody in general?
I'll take whatever you can give me. Please.



I've actually got a few nice photos of me jumping Sunlight... the sire Tali Fahl www.dundeetrainingstable.com... and some better pictures of my filly at the mares side (like ones that actually show her body and face in a more flattering way- as opposed to these poor pictures)- I'll try and get those scanned sometime today if possible. Also- the umbilical hernia is completely taken care of and once again- she's actually looking like a horse now.

couple days old (end of July baby)



gangly yucky stage and I look like an idiot... but oh well



Mare in all her scruffy winter glory. It snowed just last weekend... go figure.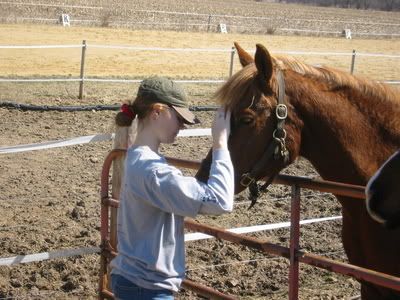 Yucky color contrast on this poor quality pic... but that's her as a young young youngster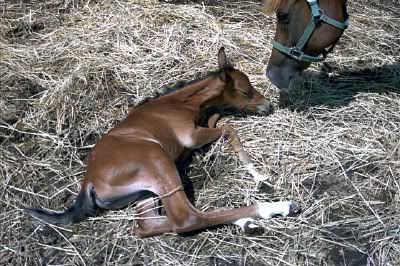 Let me once again stress that this was that ugly gangly stage- and she's very much improved. Her neck is positioned in one of the least flattering ways possible and muscle development is all gone... not to mention uneven footing. It's embarassing... I should know better than to not have any better photos laying around- especially as someone into photography!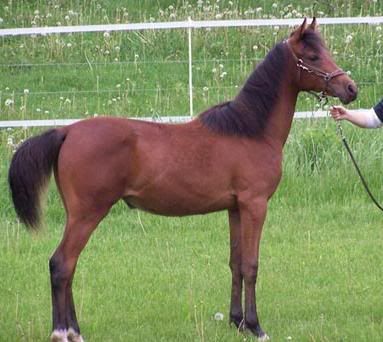 And here is the reason this little filly is destined for the sporthorse world as opposed to Arabian halter- although it is a poor pic. I'll get a better face shot up ASAP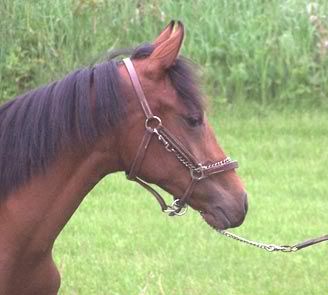 cross-posted